1960
The first conveyors installed in dry-cleaning shops were mostly American (Cissel, White). They appeared at the end of the 1960s.
1970
Then, the first European conveyors appeared in the 1970s. They were more modern, with chain links from 2 to 10 slots, or a continuous belt perforated with slots.

Their main interest was space saving, especially with floor to ceiling systems allowing more floor space for production.

1980
The development of discount dry-cleaner's at the end of the 1980s favoured the installation of new conveyors with the arrival of automatic garment dispensers. Their goal was not to save space, but to increase the profitability of volumes handled. In this kind of shop, the conveyors were often on one level and very long.

1990's

In France, nearly all chains of dry-cleaners use conveyors. Mostly for profitability and modernity reasons. As an integral part of the production process, they actively helped to reach the profitability of the business models proposed to buyers and owners of dry-cleaning shops.

Today
Conveyors have become an essential tool for all dry-cleaning shop creations, just like ironing boards or pre-treatment workstations.
>> It seems difficult to plan seriously a dry-cleaning shop creation without including this essential tool bringing service quality and rapidity.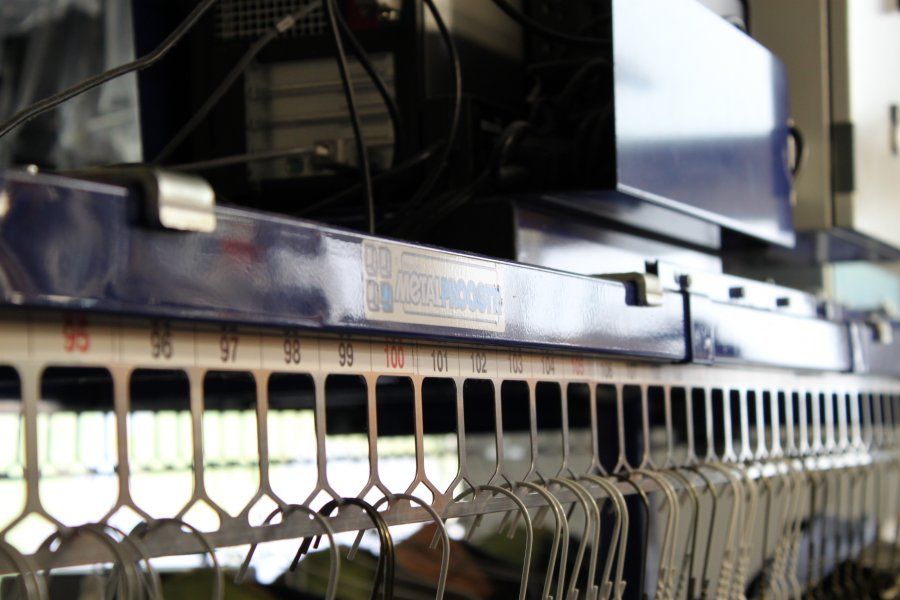 What is a garment conveyor?

Technically, a conveyor is a mechanic process allowing to convey merchandise from one point to another in a production workshop.
It may be a conveyor belt on an assembly line allowing to convey items to assemble from one position to another, or a suspended chain allowing to move items from one treatment bath to another for instance. Baggage conveyors in airports are another example.
This process has been cleverly adapted to make the conveyor a tool for storage and delivery of clothes handled within the scope of the dry-cleaning activity.

It is made of a metal section hanged at around 6 feet above the floor, including a belt or a chain with slots. This chain is driven by an electric motor controlled by a variable-frequency drive and by a forward-reverse switch.
2 main existing models of conveyors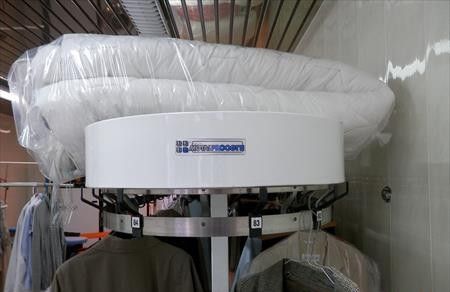 Conveyors with continuous belt

On these models, the hangers hang on bars without precise area numbering. They are used as simple moving hanging rails. In this case, the storage methods remain the same as before the conveyor installation: by order number or by customer name according to the shop's operating mode.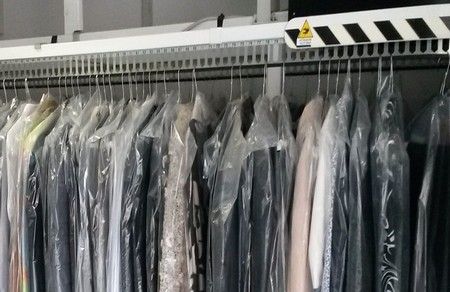 Conveyors with slots

In this case, each order or item handled is stored on one or several slots with a specific numbering. Mostly used together with production IT, they bring real time saving and productivity increase. The chain links may have 2, 3, 5 or 10 slots, according to the manufacturer and the available space in the point of sale.
An additional tool: the intermediate production conveyor

Some shops with high volumes sometimes use intermediate production conveyors. They are often coupled with a software-assisted assembly system. This conveyor is not used for final storage, but for storage of items waiting for batch assembly.

Why should you install a conveyor?

Advantages

The operator doesn't walk to the batch storage area, but instead batches come to the operator. This brings more work comfort and huge time saving.

The process of making batches available can be computer-aided and allows to send customer notifications when batches are ready.

It often allows space saving in the storage area. In fact, it is no longer necessary to have access corridors between hanging rails.

In most cases, the batches stored are complete and ready to be delivered. This brings significant time saving when delivering the customers. Some stores with very few space available, thus with no area for intermediate assembly, can store items of a batch individually. Then, if the conveyor is coupled with an efficient IT solution, the assisted-storage will move all the items of a same batch to an adjoining area by itself. This way, the customer delivery remains fast.
Drawbacks

The investment cost is far superior to simple hanging rails.

It is sometimes needed to rethink all the shop's workspace to install a conveyor that wasn't originally planned.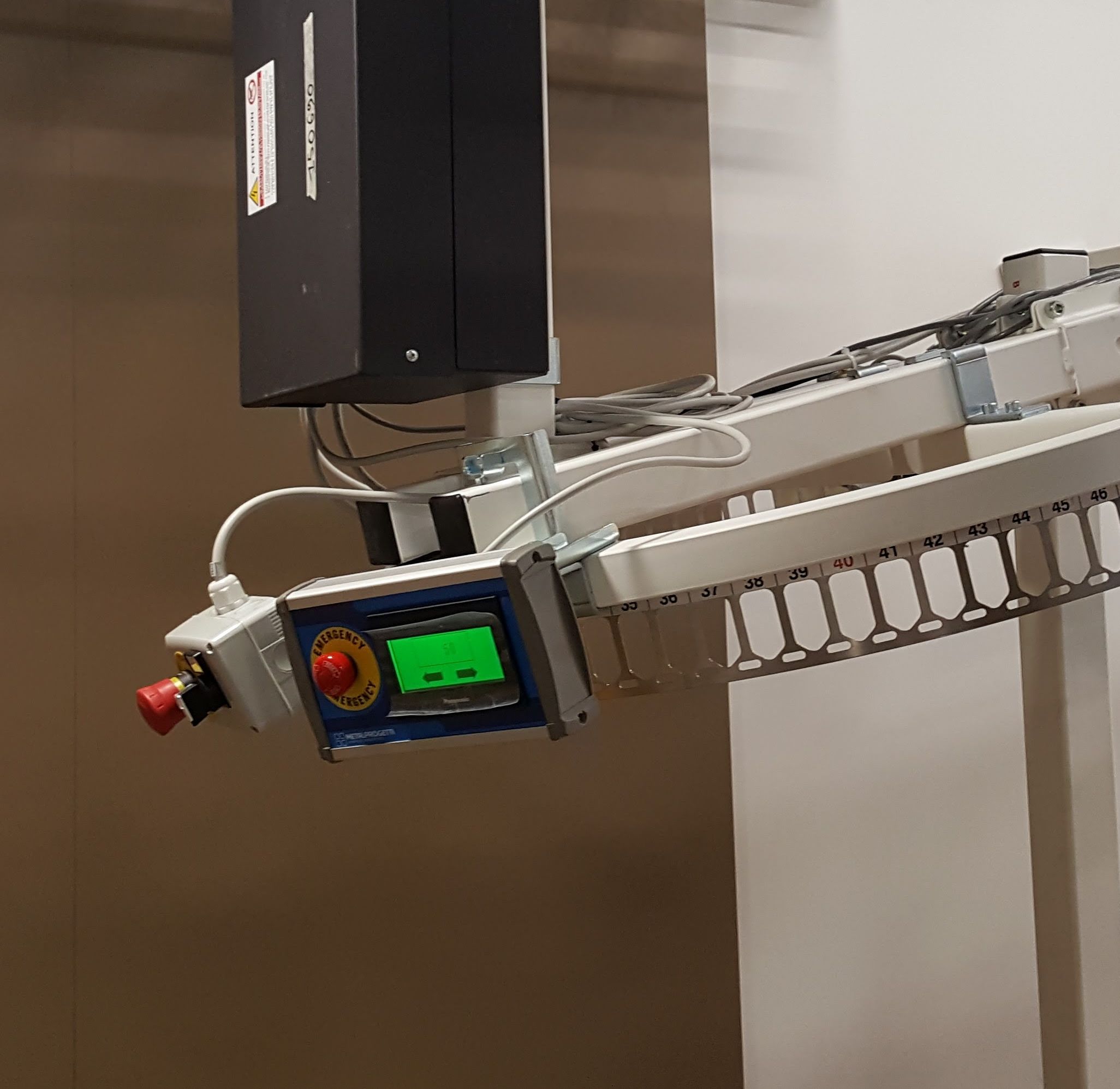 What is the benefit-cost ratio?

The answer can be found in the previous paragraph.

A conveyor should be seen as a necessary long-term investment to obtain high profitability, but also to be in line with the quality and service rapidity expected by dry-cleaner's customers of today and tomorrow.

Generally, you may consider that the installation of an IT-assisted conveyor can save ⅓ of an employee's time. The much faster delivery and the availability notifications to customers allow significant time saving at the counter that can be used for production.

The calculation is quick. Considering only an employee with minimum wage (you can easily calculate with your own conditions), here is the financial gain following the installation of a conveyor in France:

Minimum wage + contributions = around 2,100 € a month

⅓ of 2,100 € = 700 €

On 5 years, this amount allows an investment of over 40,000 €.

This amount is more than enough to pay off a wonderful automated conveyor that will change your life.

Ask people who went for it. 😉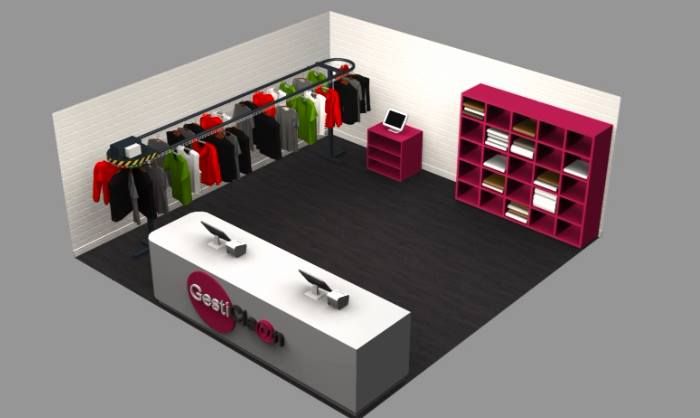 Connection to an IT-tool: why?

The conveyor alone, whatever type or brand, is an extraordinary tool that should be mandatory in all modern dry-cleaning shops.

But the connection to an efficient specialised IT and the assistance it provides undeniably multiply the advantages:

Automatic movement and research of the best storage area according to the batch size.

Instant information on the storage area available on the till. 

Possibility to join automatic delivery processes such as 24/7 automatic garment dispensers.

Possibility to join automatic assembly intermediate conveyors.

Automatic availability notifications to customers (e-mails or text messages). 

A simple scan of the customer's pickup receipt starts the conveyor's movement to bring the batch to the counter. No need to walk. No error.











Did you know?
Inforum signed a partnership agreement with Metalprogetti in 2018. GestiClean V10 was designed to be interfaced with all types of conveyors from the Italian brand
Besides, Inforum can automate all the other brands present in the French market.