Concept of "useful offcuts"

Idea for not losing the paper waste due to the printing of marking tags...
How? By offering the dry cleaner the possibility to add a text of his choice.



In GestiClean, the software program specialized in dry cleaning, we have always tried to reduce this impact by looking for solutions. For starters, we know how to transform the main flaw of dot-matrix type garment tag printers into an offcut at the start of the tag garland, where other software programs add it to all the tags.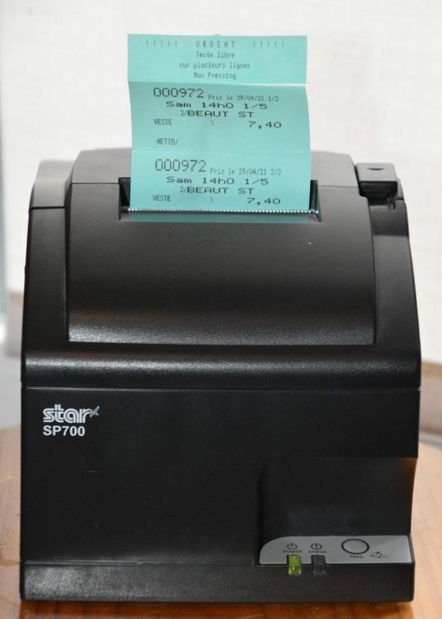 These printers have the particularity of having a technical space between the printhead and the cutter. Which implies an area of ​​the ticket cannot be printed. The other systems integrate this technical margin into each tag, so all the tags are longer. Our solution: take this particularity into account only once. A blank ticket (offcut) is printed at the end of each order (1 shirt = 1 tag + 1 offcut; 10 shirts = 10 tags + 1 offcut). This might give a wrong impression of waste compared to other systems that don't generate them, but in reality we use less paper our way.
Always in the spirit of optimizing costs and being useful in the daily life of the dry cleaner, we have implemented the "Useful offcut" feature.

TVery often, these offcuts are stored and already put to good use: to add additional information to an item, to attract the attention of production operators for reservation or sewing; or simply for hand marking.

In addition to this common use, it is now possible with GestiClean to pre-print a message of 1 to 4 lines on these offcuts, with the text of your choice.

At each end of garment tag printing, the following offcut will be pre-printed with the customized text:
- "Urgent"
- "Attention: indelebile stain"
- "Sewing work"
- "Store name", etc.

Everyone adapts it to their needs.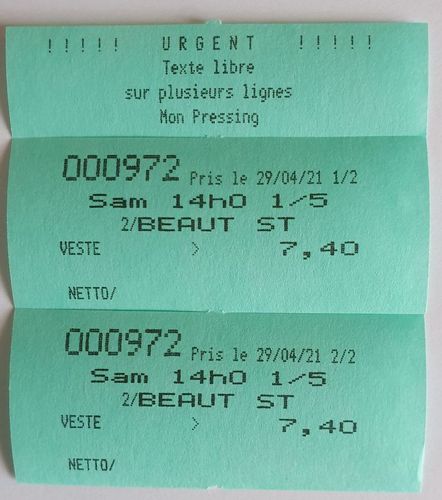 Would you like to implement this feature?
Please do not hesitate to contact our technical service as part of your support contract (intervention outside the support contract would be charged).
+33(0)4 50 37 15 29 / support-gesticlean@inforum.io