Support contract for GestiClean
A technical team in the service of our customers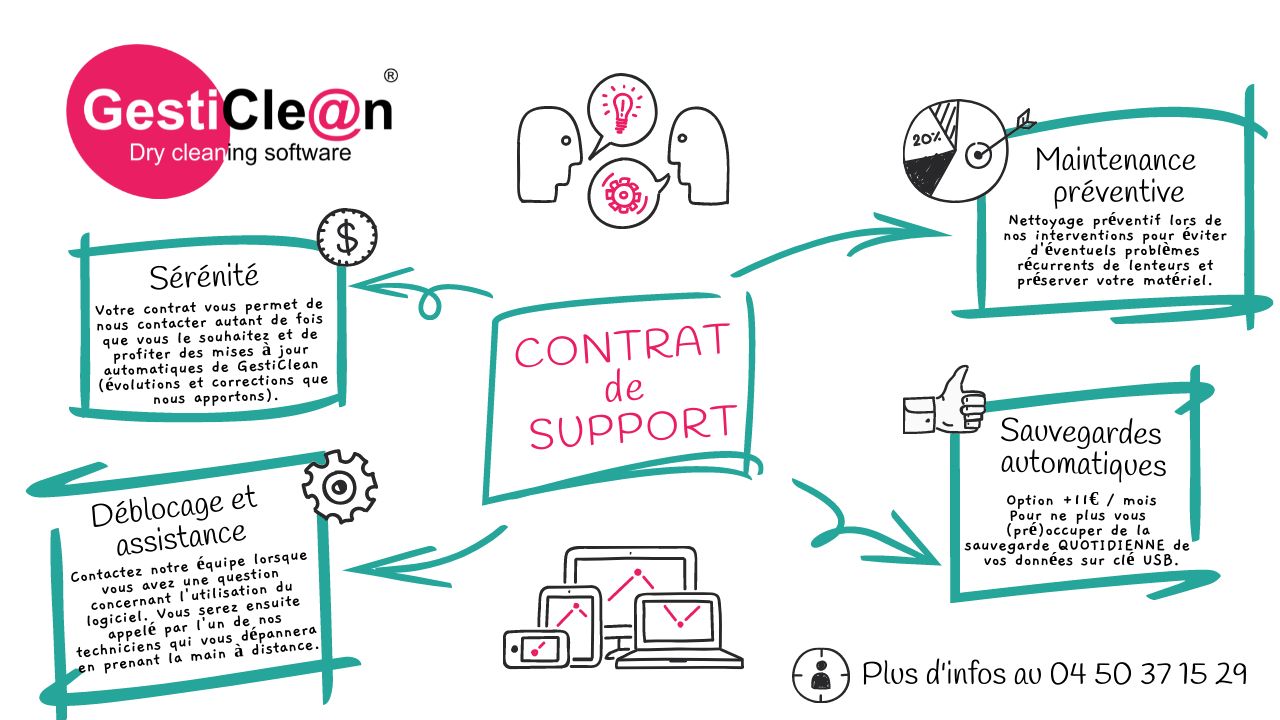 Dernière mise à jour le 01/06/2022
Données statistiques depuis le 22/01/2020,

93%

of our support interventions received the best evaluation by our customers
7 667
number of interventions under support contract


1 498
number of customer evaluations

Réactif, compétent , échange constructif.

L'atelier du linge, Montauban (82000) - 06/04/2022
Prestation très satisfaisante : problème rapidement résolu et bon accueil téléphonique.

ESAT de l'ADAPEI, Le Tallud (79200) - 28/03/2022

Très sympathique, a répondu à mes demandes. Un grand MERCI.
Excellent technicien d'une rare gentillesse. Bravo. Cordialement.

—

Pressing Aqualogia,

Ajaccio (20090) - 20/01/2022
Toujours au top cette équipe. Merci Inforum pour votre professionnalisme.
Explications parfaites, précises et claires dans la bonne humeur.
Très très satisfait, en termes techniques et humains.
Intervention ultra rapide et efficace ! Merci.
Très pédagogue. Donne de bons conseils et va à l 'essentiel.

Très à l'écoute. Personne réactive et compétente. Merci.

Excellent approach by the team on this original project. Good comprehension of the need and precision in the report in order to take the best decision.
Always well informed by Inforum's support department 👍
The repairs are going well in partnership with a local technician. To be followed until the end. Happy about the work as partners.
The request is fully satisfied. Good contact, clear explanation.
CONGRATS!!! Always excellent service in INFORUM.
Hello. The quality of the maintenance service is irreproachable. The technicians are skillful, efficient and responsive. A model of its kind! Congratulations.
As always, nice and efficient. Happiness.
Perfect! Always with a lot of expertise in the answers! Congratulations for your professionalism.
Satisfied by the answers given to the issues explained by phone. No lack of hospitality, skills and kindness, thank you.
Information is always relevant and we always have a solution. Only downside, the waiting time to be called back is often superior to 1 hour.
Any question?
Contact our sales team
+33(0)4 50 37 15 29